On this day in NBA Finals history: Michael Jordan's 'Shrug Game'
Jordan's reaction to six first-half 3s in Game 1 of the 1992 Finals was legendary
Using the word mediocre to describe Michael Jordan is pure blasphemy. Yet, in his 15-year NBA career, the greatest player of all time was a mediocre 3-point shooter, at best.
But on June 3, 1992, in Game 1 of the NBA Finals between the Chicago Bulls and Portland Trail Blazers, he was an absolute assassin from behind the arc. Jordan — a career 32.7 percent 3-point shooter who shot a mere 27 percent during the 1991-92 regular season — dropped six deep balls in the first half alone, tying a Finals record for 3s in a half, set by Michael Cooper in 1987 and tied by Bill Laimbeer in 1990 (Ray Allen broke the record in Game 2 of the 2010 Finals with seven first-half 3-pointers.)
"Shots started dropping from everywhere," said Jordan after Chicago's 122-89 win, which he finished with 39 points and a still-standing NBA Finals-record of 35 in the first half. "I started running for the 3-point line. It felt like a free throw, really."
After connecting on his sixth 3-pointer of the night, which he swished over his defender Cliff Robinson, Jordan turned to the scorer's table and shook his head three times. Then, as he jogged back down the court, he employed a simple shrug of his shoulders.
This wasn't a Maximus Decimus Meridius "Are you not entertained?" moment. This was a humble "Yup, I can't believe it, either" reaction to his atypical 3-point shooting ability.
"Let me tell you, I surprised them as much as I surprised you and myself, the way I was shooting today," said Jordan following Game 1, which is now known as "The Shrug Game."
"I had to ride the wave when I had it, and everyone picked up on it."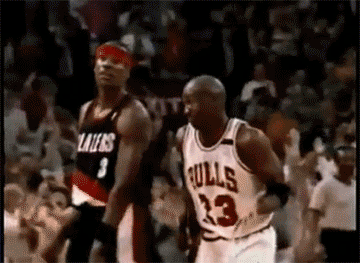 Out of all of Jordan's legendary playoff moments, this is hands down the most GIFable. Because everyone has had a Michael Jordan shrug moment before.