NBA
The most disrespectful NBA plays of all time
James Harden joins the pantheon with his annihilation of Wesley Johnson
Let's get something straight off the rip. What Houston Rockets guard James Harden did to the Los Angeles Clippers' Wesley Johnson on Wednesday night was not, in the purely technical sense, all that special. Yes, he sat Johnson down like a 5-year-old getting a timeout. It wasn't any worse — again, strictly from a ballhandling and footwork perspective — than what Harden did to Ricky Rubio. Or Danny Green. Or Avery Bradley. Harden has been putting the whole NBA in a blender. It ain't nothing new.
But what happened in between the ankle-breaker and the bucket? Harden watching Johnson fall, then waiting with the ball in his hands … and watching … and waiting? Forcing Johnson to struggle to his feet and contest a 3-pointer that we all knew was destined for the bottom of the net?
There's only one way to describe it: disrespectful.
These reactions to @JHarden13's disrespectful crossover will give you life. 😂 pic.twitter.com/4cZQowRMmo

— SportsCenter (@SportsCenter) March 1, 2018
That doesn't happen often in the NBA. For all their talent and swag and millions of dollars, NBA dudes can get in their feelings about perceived slights in the form of a garbage-time bucket, a late-game Rucker Park frolic or whatever nonsense sent three Rockets barging into the Clippers' locker room the last time these two teams played.
But Harden's game is so ridiculous right now, all Johnson could do is smile and prepare to join the pantheon of victims to The Most Disrespectful Plays Ever. This category is not the usual "greatest" lists of dunks, crossovers, buckets or club-parking-lot Bentley exits. These plays are all about what happened after the move or the shot. They are about the extra hot sauce, the exclamation point — and the fact that, just like Johnson, the victims couldn't do a thing about it.
---
No. 6: KOBE bryant ON steve NASH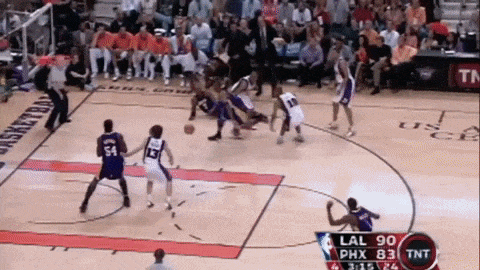 What Kobe Bryant did to Steve Nash isn't the Mamba's best poster. That would be when Kobe acquainted Dwight Howard with his manly regions in 2006. What set the Nash mash apart was Bryant's postdunk pendulum on the rim. Imagine being Nash, lying on the ground in his own arena, looking up at Bryant doing the Uptown Swing. Dead wrong.
No. 5: ShawN KEMP POINTS AT ALTON LISTER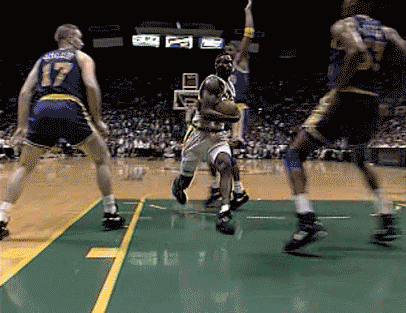 Bad enough that Shawn Kemp cuffed the ball with one hand off the dribble, then sent Alton Lister sprawling to the floor with a ferocious spread-eagle bang-out. Worse still that Kemp pointed at the prone victim. But the crouch-double-finger-point? Way extra — and superb.
No. 4: Michael JORDAN FINGER-WAGS MUToMBO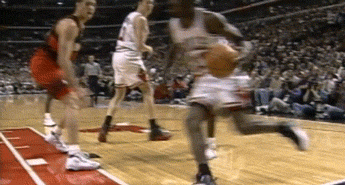 "You haven't got me," the shot-blocking giant Dikembe Mutombo, known for his finger-wag after rub-outs, told Michael Jordan in a moment of Titanic hubris. "It's never gonna happen."
No. 3: THE ALLEN IVERSON STEPOVER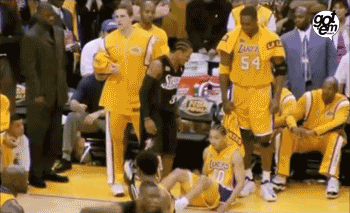 More essential to his legend than the Practice Rant. You don't even need to see the video. Like Harden on Johnson, this was the type of move Allen Iverson did on the regular. But Iverson graffitied the bucket into history by stepping over Tyronn Lue with so much emphasis, with a look of such disdain on his face, it was like he delivered an entire rap song in the space of those two steps. Right in front of the Los Angeles Lakers bench.
No. 2: STEPHen CURRY TURNS HIS BACK ON BUCKETS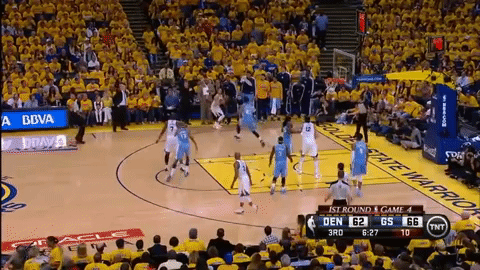 Stephen Curry is the anti-Iverson, right? Wrong. Dude is such a cold-blooded killer, he's gonna turn his back and talk to your bench while his bullet is still flying through the air.
No. 1: REGGIE MILLER CHOKES OUT THE KNICKS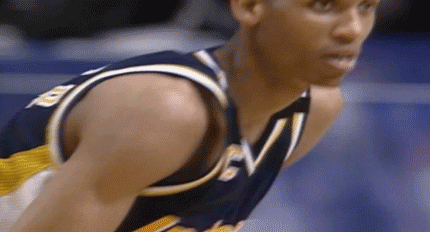 Madison Square Garden, 1995. Final seconds of a huge playoff game. Indiana Pacers down 6. Reggie Miller scores eight points in 8.9 seconds — then stares at New York Knicks court jester Spike Lee and gives a two-handed choke sign. So disrespectful, the Knicks have yet to regain their dignity.