Cover Stories
Rae Sremmurd's June/July 2016 'The FADER'
On rap, Hollywood, and sport—and black male affection, friendship, and love
[This article was written before the tragedy in Orlando, Florida. The urgent need for love and acceptance expressed here is only intensified by the terrible events of this weekend. —DD]
I was taking a nap in my dorm room when I got a text from my friend saying that rapper Pimp C had died. It was Dec. 4, 2007.
I was 10 when Tupac Shakur and Biggie Smalls died, so I didn't really feel too much of an emotional connection to their respective assassinations.
But Pimp C? Pimp C was the South. I was born in Louisiana and raised in Mississippi, and Pimp C, as one half of the legendary Houston-based rap group UGK, spoke to and for where I'm from. He embodied our slick-talking, quick-witted, no-nonsense demeanor — any rap fan who could make a day trip to the Gulf Coast undoubtedly loved Pimp C. He was our uncle, the guy who could flip an old Southern idiom into pearls of new wisdom. Pimp C's show-stealing verse on Jay Z's 1999 "Big Pimpin'," when he put Southern culture on display for the whole country to see is still a source of pride for any rap fan south of the Mason-Dixon Line.
So when he died, I was shaken. In the days that followed, I tried to absorb all of the Pimp C content and tributes I could get my hands on. I stopped everything to make sure I listened to the other half of UGK, Bun B, talk about Pimp C on Houston's 97.9 The Box in the days after his death. Bun B spoke about friendship and what it's like to unexpectedly lose someone so close to him. But here's the part that stood out:
"And I loved him, and he loved me, and we're never ashamed to say it. And I know we're in the era of 'pause' and 'no h—' and all that, and that's all fine and dandy. But if you really love your homie, don't feel like you can't tell him you love him."
Those words stuck with me. I've never forgotten them. As soon as Bun B spoke them, I picked up my phone to text some of my male friends that I loved them. I started the text: I just want to let you guys know … Then I deleted the message and closed my phone without ever hitting send.
---
Khalif "Swae Lee" Brown, 23, and Aaquil "Slim Jxmmi" Brown, 24, are two brothers from Tupelo, Mississippi. The duo practiced and perfected its craft of creating melodies out of thin air, eventually taking their talents to 106th & Park's "Wild-Out Wednesday" amateur showcase as Dem Outta St8 Boyz. They eventually moved to Atlanta, and changed their name to Rae Sremmurd. And with hits like "No Flex Zone," they became megastars.
Rae Sremmurd is a rap group in the loosest definition of the term. The worst thing they do is rap. Instead, they've crafted crossover hits based on an ability to alchemize bass-heavy beats into infectious feel-good anthems using repetitive hooks that you want to belt out with your windows down. Their sound has placed them firmly in opposition to hip-hop's older guard. Ebro Darden, the 40-something head honcho at New York's Hot 97 radio station, has been one of their biggest opponents, once chastising Complex for daring to name Sremmurd's debut, Sremmlife, as the third-best album of 2015.
I picked up my phone to text some of my male friends that I loved them … Then I deleted the message and closed my phone without ever hitting send.
Rae Sremmurd eschew many of the qualities that traditional hip-hop fans (see: "old heads") hold dearly. The duo is part of a generation that doesn't feel the need to perpetuate a hardness that so many of its predecessors maintained to hold up tough-guy images. In the '80s, the most respected emcees — such as Rakim and Big Daddy Kane — projected deep, manly voices. And in the '90s, credibility as a rapper went hand in hand with an irreverent, in-your-face hypermasculinity — itself perhaps a response to the buttoned-up, refined masculinity of Motown.
Now, however, acts like Rae Sremmurd — along with artists such as Young Thug and Jaden Smith — are pushing against that idea that rappers need to look fresh out of the '90s to be heard. Not everyone in the older generation is embracing this change with open arms. Instead, the semi-androgynous fashion, and the shredding of hypermasculine norms have largely been met with ridicule and memes about what rap used to be like — ignoring the fact that one of rap's most respected emcees, Andre 3000, customarily wore women's clothing and wigs on stage.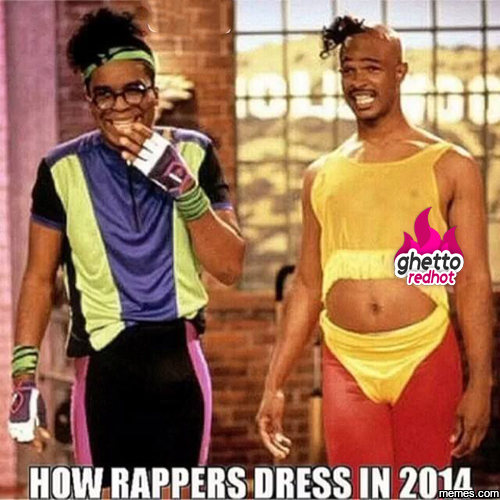 A dichotomy is being established: Real rap is masculine, and the new kids are all "gay" — as if sexual orientation in itself takes away from one's masculinity anyway. So last week, when The FADER posted the cover (photo by Alexandra Gavillet) of its June/July 2016 issue with Swae Lee and Slim Jxmmi shirtless, and with one brother's head resting on the other brother's shoulder, the floodgates opened. Two blood brothers who love each other dearly posed together affectionately, demonstrating brotherhood and a comfort with each other's bodies — and it's an indictment of their manhood.
There are also people defending the picture, of course, on the premise that the picture is OK because the two men are actual brothers. But what if they weren't related? Would it then be "gay" if they were just two men showing physical affection for each other?
---
The issue of hypermasculinity with regard to black-male affection isn't relegated to the hip-hop world — not by a long shot. In March, Michael B. Jordan, who became an action-movie star with his turn as Apollo Creed's son in Creed, and Ryan Coogler, who directed that film and will be directing the upcoming Marvel superhero flick Black Panther, posed together for a feature in Vanity Fair. Jordan's hand palmed the back of Coogler's head, as a form of affection. The image was widely criticized for having "homosexual" overtones — how dare Jordan and Coogler agree to an image that emasculates black men? The outrage was silly. Coogler and Jordan are two black men who are comfortable expressing black heterosexual male love they have for each other.
I applaud them for that picture. But it would never cross my mind to pose with a friend of mine like that.
I understand the long history of America's interest in stripping away black manhood — from how slave trade and slave owners actively attempted to strip Africans of their masculinity at every turn. I know how slave owners raped and abused black women in front of black men to show male dominance and to psychologically castrate the black men. Daniel P. Black's 1997 Dismantling Black Manhood: An Historical and Literary Analysis of the Legacy of Slavery articulates the impact of slavery on black masculinity: "Men who once stood in defense of their mother's and father's legacy, now, under extreme duress, simply sat down and died. They saw little reason to live, for their manhood had been rendered dysfunctional."
"… we hugged, said we loved each other. When we separate, we always make sure we hug and say we love each other." —
Bun B., December 7, 2007
I understand the reverberations of the constant attack on black manhood are felt today. We try to reclaim and redefine our masculinity with every generation — and each new generation brings new definitions that seem at odds with the definition that came before. So we're extremely quick to clap back. We're still fighting ghosts of emasculation that go back to the slave trade. I've seen enough black-male comedians in drag to know that the cycle continues (and comedian Dave Chappelle just wasn't having it). But that doesn't feel like a satisfactory explanation for why I'm so hesitant to tell other men I love them.
Joel was my best friend in middle school and stood by me when there weren't a lot of people who liked me. I owe my career to John, whom I talk to about writing, fatherhood and my marriage every day. Tins is my brother who I'm so proud of every day. My brother-in-law, Brian, sets an example for what a good marriage is supposed to look like. I love laughing with Stephen and Marques. I've grown up with Arnold and Andre. I love these men. But I'm more comfortable typing those words onto a Google Drive file for an article I know complete strangers will read than I am texting it to friends I've known all my life. When I see them, I give them a pound and half-hug and tell them to take care when we part ways. But I never tell them I love them. I should. I know this. I've known this since Bun B told me to. Part of me is afraid of what they'll say in response, but I can't really explain what's holding me back.
When I think about being more affectionate to my friends, I just think to myself that it might be weird to suddenly change the dynamic of our relationship. And what if they think I'm being weird for suddenly showing them how much I care about them? We've been one way for so long, why change?
But what if they weren't related? Would it then be "gay" if they were just two men showing physical affection for each other?
I'm obviously not the only person with such dilemmas. Pablo Torre's ESPN story on NBA players LeBron James and Dwyane Wade's friendship featured anecdotes about late-night phone calls, men ordering fried fish for each other and leaving voice notes on each other's phones. But when it came to the "L" word, things got weird:
"And when Wade is asked whether he and James use the word, he instinctively recoils. 'Not like with my wife!' he exclaims. 'It ain't like looking at each other eye to eye, like, I love you.'
Wade eventually admitted to saying things like "Love" or "Love you, bro" but his initial reaction was telling. He felt the need to offer up the caveat that it's different than when he says it to his wife, as if there was a need to dispel any rumors of a romantic relationship with James. They dance together shirtless on Snapchat and ride on tandem banana boats, but the "love" question is what makes Wade cringe.
The hesitation to embrace male love isn't just an issue perpetuated by men and the #MasculinitySoFragile crowd. Society as a whole has put unjust pressure on masculinity. Especially for black men. When hip-hop artist Kanye West launched yet another misogyny-laced attack on his ex-girlfriend Amber Rose and her son, she fired back with a tweet that would hurt him as badly as he'd hurt her. She went for what she considered to be the biggest blow possible:
Awww @kanyewest are u mad I'm not around to play in ur asshole anymore? #FingersInTheBootyAssBitch☝

— Amber Rose (@DaRealAmberRose) January 27, 2016
She went after his masculinity, the idea that anal play — something plenty of straight men enjoy — brings West's sexuality into question. As soon as the tweet hit the e-streets, the internet broke. Buzzfeed created memes. Twitter comedians came up with their best jokes at the notion of West being "outed" for something that in their eyes made him less of a man. West had definitely crossed the line with his insults and deserved a monumental humbling. It's just telling that attacking his masculinity through exposing a desire for anal play became the nuke Rose felt she needed to drop. Maybe more secure masculinity and a better understanding of what masculinity really entails will render these sorts of "scandals" obsolete.
At the risk of sounding cliched, there's no such thing as too much love. And being black in America means there can be times when we believe that love is at a premium. For black men, it's simply foolish to block ourselves from experiencing and sharing black love due to our own insecurities.
James and Wade dance together shirtless on Snapchat and ride on tandem banana boats, but the "love" question is what makes Wade cringe.
I find it easier to open up and be affectionate to black women. I hug them and tell them I love them all the time. And while black women have been the source of so much of black male strength and well-being, it's past time for us to stop holding them responsible for our emotional maintenance at every turn. Black men need to love one another and bask in that love. We need to rely on each other for support and affirmation. It's the least we can do for each other.
So here's my contribution: I'm going to be more affectionate toward men in my life. I'm going to show them the love I feel for them. I'm going to express my love for them. If you're reading this, then maybe you'll do the same. And next time we see two men expressing love for one another, we won't be so quick to use it as a way to find something wrong with them. Instead we'll be able to appreciate the security and comfort and family love Rae Sremmurd displays on the cover of The FADER. We'll embrace the fact that Jordan and Coogler know the beauty of black-male support and love. By doing so, they're loving us and teaching us about the kinds of relationships we should aspire to have. Because even though Bun B lost his best friend, he can sleep well at night knowing he was able to express his love before it was too late. Or as Bun himself said in that radio interview: "Who gives a f— how somebody take it? Because when things happen, you're going to wish you had said it. You're going to wish you said it louder."