Drake
A really, really random celebration of Drake's journey
Clips, podcasts, articles — 17 pieces of Drake content to guide you through the new 'More Life' era
Drake has grown up before our very eyes — from hairless cornball to Champagne Papi: the man you either want to be, or want to be with. He got a lil' facial hair, a lil' muscle, and a lil' Caribbean sun, and suddenly he's the man responsible for all your summer jams, your late-night jams, your kick-back jams — all the jams. As we await Drake's "playlist" More Life, here's a collection of Drake content — video conversations, talk-show moments, podcast and radio interviews, written profiles and more — to give you context and take you down memory lane.
---
The voice of Drake
In a 2013 appearance on The Ellen DeGeneres Show, Drake proves that his smooth, deep voice can make anything sound sexy. Behold, true talent.
The mixtape
A quick throwback: Tom Breihan's 2009 review of So Far Gone:
See, Drake's not a great rapper. His delivery manages to convey confidence at pretty much all times, but it's still halting and awkward. Half the time, his lines barely even make sense: 'I never get attracted to fans / Cuz an eager beaver could be the collapse of a dam' — huh? And even if the tape is mostly crammed with emo soul-baring, he still comes up with lines like this: 'My delivery just got me buzzing like the pizza man.' Ugh. In his four appearances on the tape, Lil Wayne just annihilates Drake. This wouldn't be news, except we're talking about circa-2009 syrup-fried Wayne here, and it's rarer and rarer that he gets the better of anyone on a song. And yet So Far Gone still scans as one of the most compulsively listenable mixtapes of a great year for mixtapes.
Throwback to a throwback
In a look back to So Far Gone five years after its release, Claire Lobenfeld summed up Drake pretty well:
It wasn't until the summer of 2009 that So Far Gone really hit me. … We pined for success together, he stood beside me on the walk of shame, he foretold every awkward party when you're young, dumb and see your ex talking with your next talking with the one that you're with right now. Drake is always explicating your deepest inner b—s— and that's what makes it work.
Not quite a baby, not quite yet a man
Remember when Twitter was relatively unknown? In a reprisal of his Degrassi: The Next Generation role of Jimmy — sans wheelchair! — Drake made a cute song about it.
Drake the human
Ernest Baker, the guy behind the title of 2015's What A Time To Be Alive, wrote a deeply personal profile of Drake shortly before Coachella in 2015.
Being around Drake has reinforced that he is a real person, an actual human being — more than just a meme for public consumption. Maybe I'm empathetic because we share similar stories and background. Maybe it's because he's a young, ambitious black man. I relate to that. I can't help but to be happy for the guy. Yes, I've seen better Drake shows, but this weekend's reality check was a welcomed one. Ladies and gentlemen, you have your arc. … But legends don't sweat. Drake doesn't have to be more cautious, just more calculated. He hasn't felt the pressure in a little while, but he hasn't wasted any time getting used to it either.
Drake the perfectionist
Drake's drive is wild, as can be seen in this 2012 GQ interview with Claire Hoffman.
I'm obsessed with perfection. I want to work. I don't want to take this for granted. I don't want to sit out here and say, well, I could stop right here and say, 'OK. I own this. You know, it's cool. I could stop,' but why? I don't want to stop. I want to take advantage and make myself the best possible me that I can be. So I'm going to work in the gym two hours a day. And try and be up there onstage, looking strong, looking iconic.
Drake the perfectionist II
Even Drake's unreleased songs are so classic, so iconic, they could make up a five-star album all by themselves. Behold, Aaron Dodson's playlist of the album that never was.
[soundcloud url="https://api.soundcloud.com/tracks/267644627″ params="auto_play=false&hide_related=false&show_comments=true&show_user=true&show_reposts=false&visual=true" width="100%" height="450″ iframe="true" /]
The Kardashians live in Calabasas, California. Drake has a house in Calabasas, too. (Odell Beckham Jr. house-sits for Drake from time to time, by the way.) So it was only a matter of time before the Toronto rapper made an AM-PM track about his second home. That time came during Summer Sixteen, when Drake felt the need to subtly silence all of his haters. They tryna tempt me, the higher I get / The less they accept it. Who is the 'they'? Chris Brown, Tory Lanez, Joe Budden, Jadakiss — they all get called out in one way or another on this quasi-diss track. But Diddy catches the most shade. And it's not the first time he's been on Drake's hit list.
Tunnel vision
But drive and perfectionism aside, Drake is more than aware of the competition. Peep this 2013 chat with Elliott Wilson:
Honestly, just watch the whole thing because it's a great conversation.
The jester
In 2014, Drake was hanging with Jimmy Kimmel and pulled a fun prank on some unsuspecting fans.
Just like us
In this 2014 Jonah Weiner piece from Rolling Stone, Drake is just a really likable, solidly middle-brow guy, ya know? One of us.
Drake is interested in art, but he scoffs at how trendy art shout-outs have become in rap. 'It's like Hov can't drop bars these days without at least four art references!' he says. 'I would love to collect at some point, but I think the whole rap/art world thing is getting kind of corny.'
Peak Drake
In a 2015 interview with Leon Neyfakh, Drake explains "the uncanny gifts that have made him a cultural giant — and a target."
Driving was how Drake put himself in the mindset of the people he imagined listening to him. When he was trying to figure out if a song was working, he would picture someone playing it in their car. 'Especially on this new record, I just want you to be able to … ' he trails off. 'Sometimes those drives are heavy, man, depending on what happened where you came from and what's about to happen where you're going.'
Papa isn't impressed
Fresh off the success of 2016's Views, Drake headed over to Fallon and proved once and for all that parents will never be impressed, no matter what.
Post Views Introspection
Drake's "More Talk" interview with DJ Semtex has so many gems.
[soundcloud url="https://api.soundcloud.com/tracks/308443370″ params="auto_play=false&hide_related=false&show_comments=true&show_user=true&show_reposts=false&visual=true" width="100%" height="450″ iframe="true" /]
Like this one: Dre brought me into his office and said, 'Man, you're doing really good work' and he gave me a $10,000 check, and it was the most money I'd ever had in my life, and at the time I was in a relationship. So I got the money and I called my girl, and I flew my girl down to L.A. and was like, 'We can get a hotel, this is crazy.' It was just a joyous moment for me. And I had missed studio or I had done something wrong, I had let my mind deviate from work and I had missed something, and next thing I know I was sent home and that was kind of it. It was a huge life lesson for me.
Teacher
Essence's Lauren Porter wrote a GIF love story entirely inspired by Drake songs, because everything we need to know about love, Drake can teach us.
Practice: Guy's perspective — It's the moment you've been waiting for and it's even better than expected.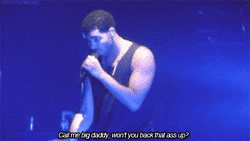 6 God
The Undefeated's own Aaron Dodson on the experience that was Drake's Summer Sixteen tour:
I never got the chance to see James Brown, Michael Jackson or Prince — three of the best artists our world has seen — perform in concert. I have, however, gotten a chance to see Drake emerge from the humble beginnings of performing in a 1,200-capacity venue as Aubrey Graham to rocking a sold-out 18,000-seat NBA arena as one of the best artists of this generation. 'I go by the name of Drake and I'm from Toronto, Canada,' he said Saturday. The same phrase from six years ago — with the one important amendment — brought a smile to my face.
Icon
The Undefeated's Justin Tinsley breaks it down by the numbers — Drake is a huge deal.
Views, which was certified double-platinum … and has been streamed over a half-billion times, is … quite literally, the top of the charts. Views has been the No. 1 album in the country since the start of the second round of the [2016] NBA playoffs, claiming that pinnacle for a record nine consecutive weeks and running, surpassing rapper Eminem's 2000 The Marshall Mathers LP for the third-longest streak in rap history. Not Jay Z. Not Eminem. Not 50 Cent. Not T.I. Not Lil Wayne. Not Kanye West. This is the longest streak for a male artist at No. 1 since singer Usher's 2004 Confessions (which also spent nine nonconsecutive weeks at No. 1). And it's the longest consecutive streak, per Billboard, since British singer Adele's global takeover in 2012 with her album, 21. 'In terms of chart statistics, this is the biggest domination of a song and album, at the same time, in more than a decade for a male artist,' said Gary Trust, Billboard's associate director of charts/radio. '[The last] was 50 Cent, in 2005.' 50 Cent's 'Candy Shop' was a No. 1 song and his album The Massacre was No. 1 for six straight weeks.
Polarizing
Not everyone likes Drake, though, according to this 2013 profile from Michael Paterniti:
This is Drake's constant quest, to search out that emotional connection, even in a crowd of 18,000. That's both his power and, according to his internet parodists and haters, his Achilles heel: his willingness to show emotion, to write revealing, autobiographical lyrics, and on occasion, between the rapper tropes of bravado and materialism, to demonstrate a flash of moral conscience in a game of misogynistic excess. And, for his trouble, he's been called a 'counterfeit rapper' (Ludacris), 'a f—— piece of s—' (DMX), and 'a straight p—–' (Lil' Kim), and cajoled to 'come out the closet' (Chris Brown). Common rapped: You so black and white, trying to live a n—-'s life … / You ain't wet nobody, n—-, you Canada dry. And that's coming from Common. 'You notice they don't criticize the music itself, though,' says Drake about his detractors. 'I'm OK with that.'
---
Love him or hate him — you can't deny that More Life will undoubtedly climb to the top of the charts and even you, yes you, Drake hater, will be bobbing your head along. You can't help it, the man's music is infectious. So here's to you, Drake, for bringing us all together just in time for Summer Seventeen.